A different kind of BPO
Our people are dynamic, think on their feet, and can quickly and effectively resolve customer inquiries or IT issues. All of which underpins our commitment to clients: superior service quality and cost-effective delivery of call center and IT outsourcing solutions.
Join our team
Who we are
As a pioneer in the global BPO industry, we are proud of our success over the years. We started as a small local company known as Ambergris Solutions in 2001, with only 50 seats. Now, we are an important part of TELUS International, a global company that enables customer experience innovation through spirited teamwork, agile thinking, and a caring culture that puts customers first. Ambergris was re-branded to TELUS International Philippines in 2007. Today, TELUS International Philippines has five sites and over 12,000 proud team members delivering exceptional customer service to our clients around the world. Our parent, TELUS, is Canada's fastest-growing national telecommunications company with millions of its own customer connections.
Industries
We provide a full range of cost-effective, high-quality BPO, call center outsourcing, and IT outsourcing solutions across customer care, sales, technical support, back-office support, and IT enablement. Our clients include companies in telecommunications and utilities, high-tech and gaming, financial services, retail and e-commerce, healthcare, and travel and logistics industries.
Global expertise
TELUS International Philippines is a proud member of the TELUS International family with over 25,000 team members throughout the Philippines, Guatemala, El Salvador, Romania, Bulgaria, the United Kingdom, the United States and Canada.
Learn more about our global solutions
"There are a lot of reasons why I am happy here but one thing that makes me stay is the work-life balance that TELUS promotes. TELUS knows how to value its employees, and it makes them different from other BPOs."
Kirvy R.
Team member
Our social purpose
We give where we live
Our global "we give where we live" philosophy is an essential part of our caring culture. When it comes to corporate social responsibility (CSR), we understand the relationship between the success of our company and the well-being of the communities where we live, work and serve. As a result, we were awarded with the Outstanding Community Award by the Philippine Economic Zone Authority and recognized as Outstanding Corporate Volunteer by the Philippine Volunteering Services Coordinating Agency.
TELUS Days of Giving
Every year, we host our TELUS Days of Giving, where thousands of our team members build homes, refurbish schools, hold medical missions, clean up our environment, educate others and bring a smile to children's faces with fun activities.
Over the years, we've partnered with Gawad Kalinga (GK) to build two entire villages, giving 144 families a place they can call home. We've also refurbished one of Manila's most over populated schools attended by 9,000 children. And when our community is in need, we've mobilized thousands of our team members to distribute food and relief supplies around the country.
See our caring culture in action
Community Board
Our TELUS International Philippines Community Board is an innovative corporate philanthropy model that further demonstrates our commitment to our "we give where we live" philosophy. Charitable organizations are invited to apply for one-time funding for projects in the areas of health and wellness, education and sports, and arts and culture. The board distributes up to US$100,000 to local charities annually. The board is composed of local community leaders and TELUS International Philippines team members who work collectively to identify local charitable activities that provide positive benefits to the community.
Want to share your idea or initiative with us? Get funding here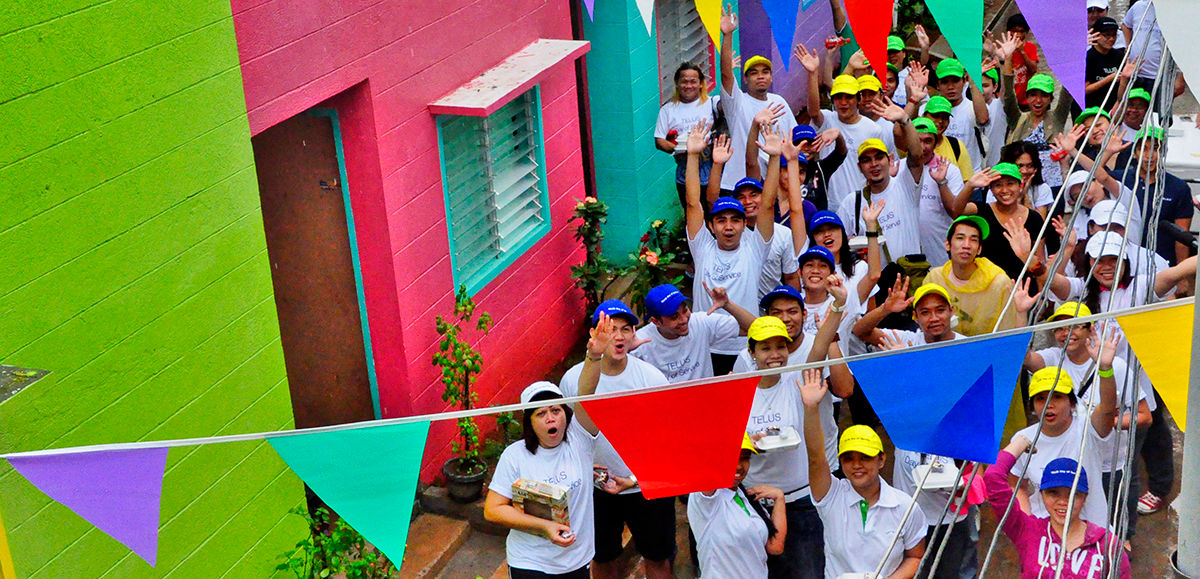 Integrated BPO and ITO solutions
Learn about our global outsourcing services
Working with us
If you're looking for a great career and a place to shine, join the TELUS International family. We're a different kind of BPO and it shows. See for yourself.
Find a great job now
Contact Us
Have a question? Check out all of the ways to connect with us or apply online.
Get in touch